Thursday, January 19, 2017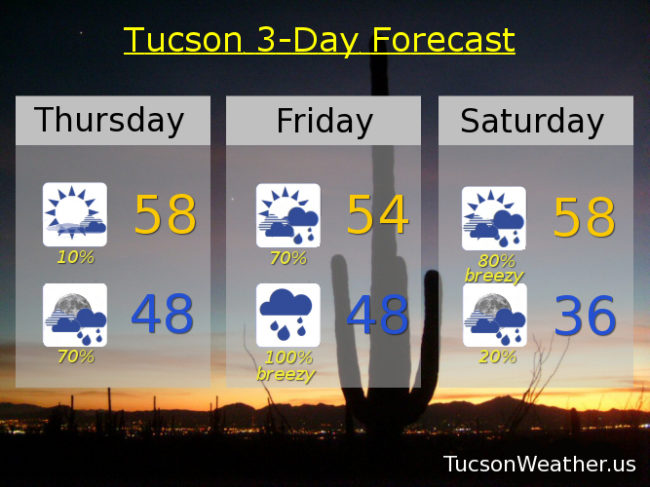 If I had the time and the money I'd rent a cabin on Mt. Lemmon and wait for the storms!  Three headed our way as we've been talking about for more than a few days now.  The first storm is already bringing rain to our west and we'll see the chances increase today and especially tonight into tomorrow morning.  Then a break and storm number two blows into town.  This one colder, stronger.  Prime time for storm number two looks to be late Friday into Saturday morning.  Snow levels could drop as low as 4,000 feet before it's done.  So much snow expected from these two storms.  A WINTER STORM WARNING is in effect from 8:00 tonight until Noon Saturday above 5,000 feet.  So be warned, there will be Winter storminess!  Check this out.  Mt. Lemmon is expecting 1-3 feet of snow by Saturday!  It'll be blowing around too with mountain wind gusts up to 50 mph.  Like I said, if I had the time and the money I'd rent a cabin up there and enjoy the storm up close and personal.  Here in the metro we'll have rain and breezes.  Potentially a lot of rain.  .75″ – 1.75″ inches is expected with some folks maybe getting even more.  Then we have another short break in the action and storm number three moves in late Monday into Tuesday.    Stay tuned!
Mostly cloudy today with a slight chance of showers and a high in the upper 50s.
Mostly cloudy tonight with showers likely and a low near 48.
Showers mainly in the morning tomorrow and breezy with a high in the mid 50s.
Rain and breezy Friday night and early Saturday with a high in the upper 50s.
Mostly sunny Sunday low 60s.  Partly sunny Monday with showers and a high in the low 60s.  Slight chance of lingering showers Tuesday low 50s.  Mostly sunny Wednesday low 50s.