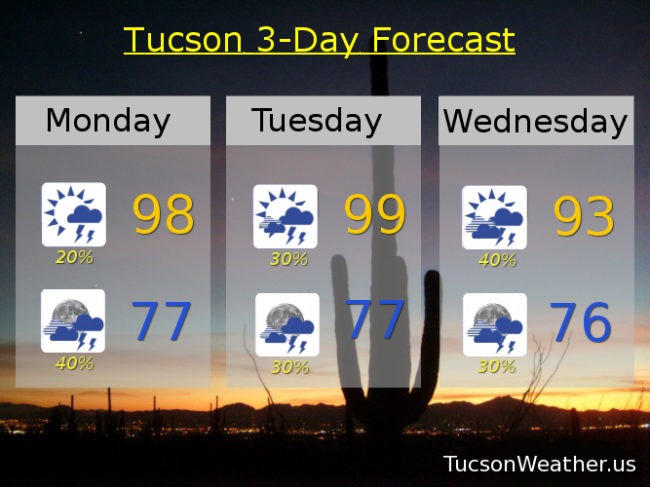 Last day of July.  Gonna be sad to see it go.  Such an amazing ride!  We picked up another .01″ of rain at the airport yesterday so now the monthly record rainfall for July sits at 6.80″!  Remarkable.  Will we add to it today?  Maybe.  Lots of sunshine and moisture may lead to a storm or two popping up this afternoon.  The better chance will be after 5:00 when a disturbance rides out of Mexico and heads our way.  If this pans out our bast chance for storms will be this evening and tonight.  Scattered storms possible tomorrow to start August out right.  Then conditions for storms become more favorable Wednesday.  Daily scattered storms possible the rest of the week through the weekend.  Viva Monsoon 2017!
Mostly sunny today with a chance for an afternoon storm or two, hopefully near you, and a high in the upper 90s.
Mostly cloudy tonight with scattered storms and a low in the upper 70s.
Scattered storms possible tomorrow upper 90s.  Better chance of storms Wednesday with a high in the low 90s.  Chance of storms through Sunday with highs in the mid 90s.