Yesterday's rain thanx to RainLog.org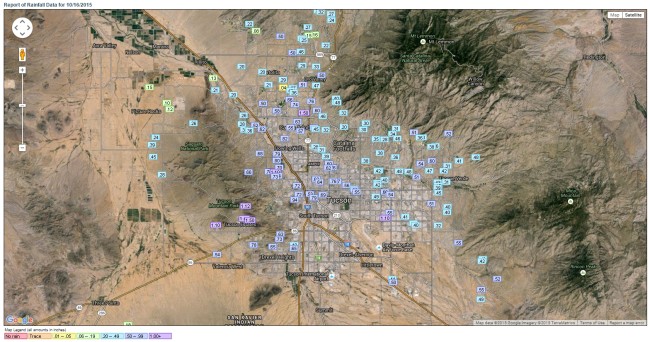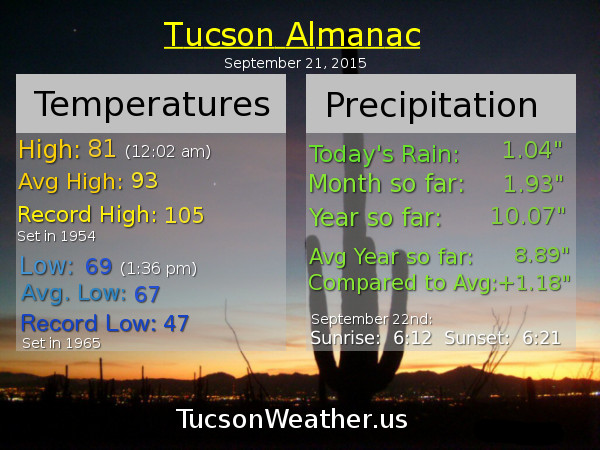 The Tucson International Airport actually received more rainfall than 1.04″ and we likely broke the daily rainfall record of 1.10″. However, we will never know. Here is the explanation from the National Weather Service:
PUBLIC INFORMATION STATEMENT
NATIONAL WEATHER SERVICE TUCSON AZ
509 PM MST MON SEP 21 2015
…MISSING RAINFALL DATA TODAY FROM TUCSON INTERNATIONAL AIRPORT…
DUE TO SOFTWARE ISSUES WITH THE AUTOMATED WEATHER SENSOR AT THE
TUCSON INTERNATIONAL AIRPORT…RAINFALL DATA BEFORE 10 AM WAS LOST.
ALTHOUGH THE FAA TOWER WAS AUGMENTING THE OBSERVATIONS…THEY ARE
NOT REQUIRED TO COLLECT AND DISSEMINATE HOURLY RAINFALL AMOUNTS.
THE OFFICIAL TOTAL AT THE AIRPORT THRU 5 PM IS 1.04″ ALTHOUGH THE
TOTAL IS LIKELY HIGHER WHICH WOULD'VE EXCEEDED THE DAILY RECORD OF
1.10″ FROM 1978. RAINFALL GAGES IN AND AROUND THE AIRPORT TODAY HAVE
RECORDED BETWEEN 1.00″ AND 1.35″. AS AN AGENCY WE CAN NOT ADD OR
MAKE UP RAINFALL TOTALS TO FILL IN THE GAPS.
Thanx to the folks at RainLog.org.  Here is a screen shot of rainfall amounts around town.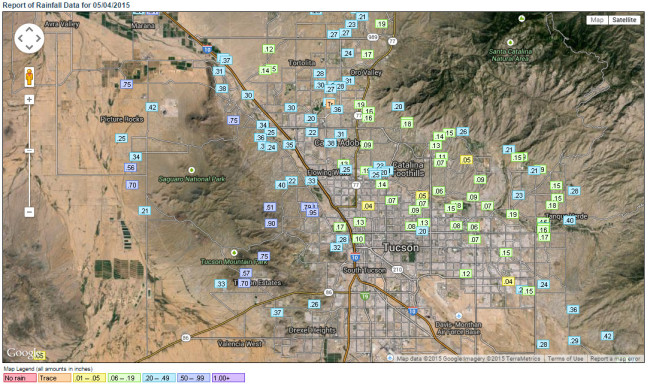 Courtesy of RainLog.org.  About a quarter of an inch here at the apartment here in Oro Valley.  Tucson International picked up .16″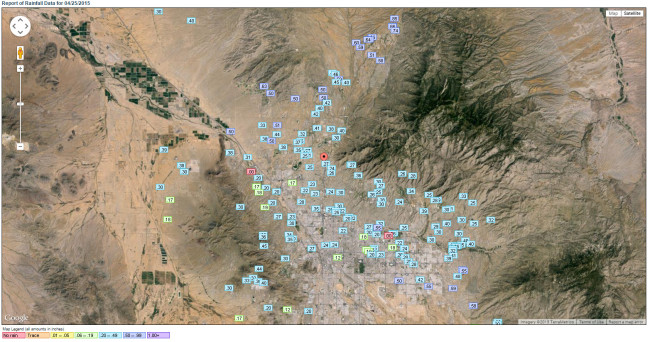 Monsoon ended on Sunday, September 30th and the preliminary numbers are in.  We did pretty good this year!  Nogales, Sierra Vista and Wilcox particularly had a good year as depicted in this handy graph from the informative folks at the Tucson Office of the National Weather Service.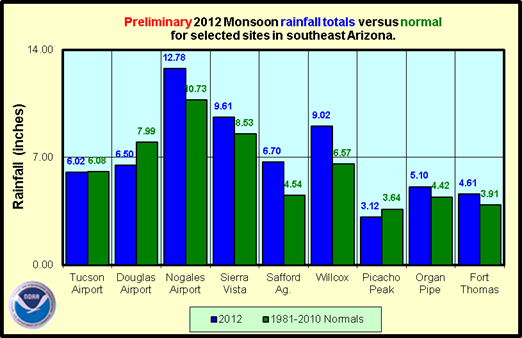 You may also have noticed that the Tucson International Airport finished just .06″ below normal for Monsoon 2012, or effectively right at average.  The problem is (as George Carlin pointed out) nobody lives at the airport!  Looking at cooperative observer reports as reported to RainLog.org we see a slightly different story.  Many locations around town finished Monsoon 2012 above average and some locations much above!  Here are screen grabs for June, July, August and September.
Let's take Continental Ranch as one example with monthly totals of .82″ + 3.76″ + 2.02″ + .52″ = 7.12″ or about an inch more than the Tucson International Airport.   One of the big winners this Monsoon was Oro Valley.  Picking just one location there we have monthly totals of .00″ + 5.87″ + 2.19″ + .95″ for a total of 9.01″.  These particular screen grabs don't include Rancho Vistoso which saw similar totals this past Summer.  Let's look east to near Houghton and Broadway.  Their monthly totals are .01″ + 3.00″ + 2.23″ + 1.80″ = 7.04″, about an inch more than the airport.  The center of town didn't fair as well.  Near Speedway and Tucson Blvd. for example, monthly totals of .13″ + 2.69″ + 3.10″ + .73″ = 6.65″ bur still more than a half inch more than the airport.
You'll have to go to RainLog.org and check the monthly totals for your neighborhood.  While not everyone was above the Tucson International Airport's Monsoon total of 6.02″, most were.  We went into Monsoon 2.44″ below average for the year (see the June 15th Almanac) and a few locations made up that deficit, although many are still a bit below for the yearly average.  With El Nino starting a comeback we can be hopeful that the Winter will be on the rainy side to keep making progress against our moderate drought in SE Arizona.
I was at friends in the Foothills enjoying some great food and company when the storm hit.  It came down good for a good half hour with some festive lightning and the accompanying thunder.  Also some gusty winds, but nothing serious.  Just a nice Labor Day weekend downpour.  According to cooperative observers reporting to RainLog.org the Foothills picked up around a half inch to an inch of rain.  Parts of Oro Valley also got in on the action with a quarter to three quarters of an inch falling.  Other places picked up some rain too as you can see from the screen shot below.  Scattered storms possible this afternoon and evening and an even better chance of storms tomorrow and Wednesday.  Monsoon 2012 isn't through yet!
Mostly sparse.  The big winner was almost a half inch on Linda Vista near Hartman Road in Marana.  Catalina and the north side of Oro Valley not too far behind with abut 1/3 of an inch.  Also 1 to 2 tenths fell near Vail.  Otherwise just some sprinkles.  Today and tonight should be better, but there are no guarantees in this life.  Here's a look at the metro rain thanx to RainLog.org
Some slow moving storms drifted off the Catalina's last night and put the good in good soaking!  More Monsoon heavy rain late this afternoon into tonight, hopefully near you.  Here are last night's totals from RainLog.org.
Sunday, August 5th had the most widespread rainfall across the Metro with areas near the airport getting the least.  The airport was skipped again last night, but Marana and Oro Valley scored decent rains in the evening and then again later in the night.  We picked up about a quarter inch of an intense shower here at the apartment in southern Oro Valley last night for a two day total near an inch.  Here are all of the two day totals around town as reported from the cooperative observers at RainLog.org