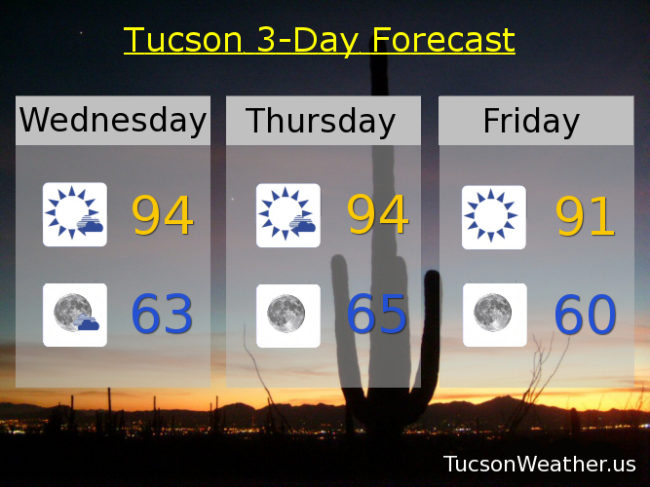 The forecast stays the same before it gets better before it gets worser. Clouds from a disturbance in Mexico will start to clear today with our highs remaining in the mid 90s today and tomorrow. A storm system missing us to the north will cool us off almost to near average for this time of year by Saturday. Enjoy it because high pressure builds in with a vengeance next week. The National Weather Service says that Tuesday's expected high of 97 would be the second latest occurrence of 97 in a calendar year with the latest being 97 on October 27th of last year. IF we hit 98 that would be the latest occurrence of 98 in a calendar year. The record high for Tuesday is 96 set in 1959. Lets try to avoid breaking it if that is OK with you 🙂 Stay tuned!
Becoming mostly sunny today with a high near 94.
Mostly clear tonight with a low in the low 60s.
Mostly sunny tomorrow with a high near 94. Sunny Friday low 90s. Mid 80s Saturday! Near 90 Sunday. Mid 90s Monday. Upper 90s Tuesday.