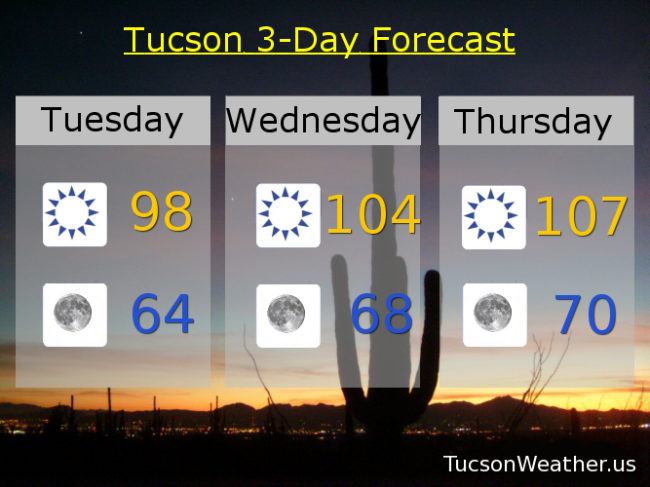 Refreshingly cool on the deck this morning with 65 degrees on both my thermometer and officially at the Tucson International Airport.  Very nice with my first cup of coffee and first light of day!  One more "cool" day and morning before we all scurry in to our AC to avoid the scorching Sun.  Our average high for this time of year is 100 and yesterday's 96 and today's expected 98 is pretty nice considering.  High pressure building in will have us melting or bursting into flames if we don't stay hydrated and take other safety precautions.  We all remember the hikers that died in the heat last year, so even though I like to have some fun with stuff, please take it seriously enough to live!  An EXCESSIVE HEAT WATCH is in effect Saturday, Sunday and Monday so watch for excessive heat.  We could be in the 1-teens, so yeah, excessive.  Enough moisture next week for a few storms?  We'll keep an eye on it and keep you posted.
Sunny today with a high in the upper 90s.
Clear skies tonight with a low in the mid 60s.
Sunny tomorrow near 104ish.  107 Thursday.  108 Friday.  109 Saturday.  111 Father's Day.  114 Monday.