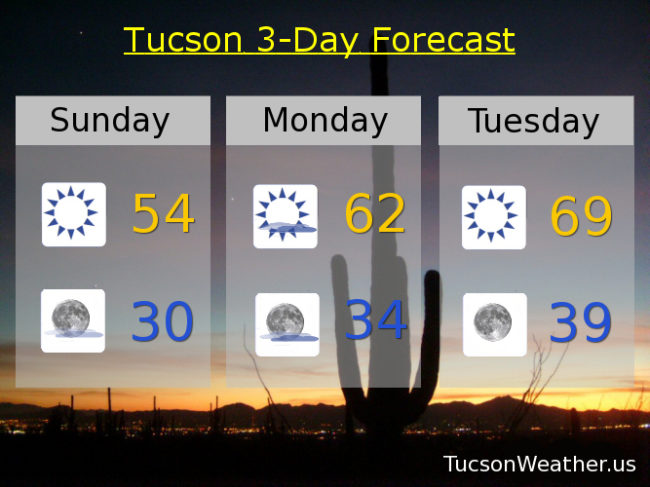 We hit yesterday's high of 69 at 10:56 in the morning and the low of 44 at 11:48 last night. One of those days as a cold front blew through mid day. The airport only picked up .02″ inches of rain, but my apartment here in Oro Valley received around a tenth of an inch. As my Dad likes to say, beats a swift kick! FREEZE WARNING in effect until 9:00 this morning, but if you didn't bring your plants in last night they should be OK. Looks like most of us will stay in the upper 30s this morning. Tonight is another story!
Sunshine and cool today in yesterday's storm's wake. High in the mid 50s.
FREEZE WARNING for reals overnight tonight with a low near 30. My plants get to come inside and watch me play Minecraft.
Some high cloudiness tomorrow hopefully for sunrise and sunset enhancement. Call it partly sunny with a high in the low 60s.
Sunny Tuesday upper 60s. Low 70s Wednesday. Mid 70s Thursday. Then a storm missing us to the north may kick up some breezes and cool us off a tad. Mid 60s Friday and Saturday. Enjoy!