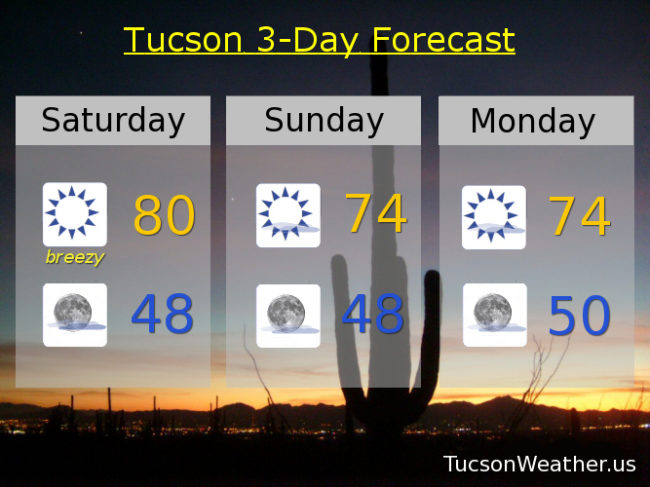 Breezy today as a system moves across the Four Corners. Since it has been so dry for so long plus low humidity today plus gusty winds equals the National Weather Service issuing a RED FLAG WARNING from 1:00 this afternoon until 6:00 this evening. I'm still not sure if they fly a red flag outside the weather service office, but I do know that if you smoke you should probably make sure you keep your butts in the car! Today's high near 80 which is the warmth we've grown accustomed to this February.
But wait! Cooler air behind the system will knock us down into the mid 70s tomorrow, Monday and Tuesday.
Then. An upper low will sink southward and park off the southern California coast. As it sits and spins it will pull moisture northward into southern Arizona. Confidence is growing that we will see rain mid to late next week! How much? The computer models don't agree on that yet. Maybe .20″ on the low side and close to an inch on the high side.
So. Slight chance for showers by Wednesday afternoon and a high in the low 70s. A decent chance for showers Thursday with a high in the upper 60s. Chance for showers Friday near 70. Stay tuned!